Informative, relaxed fun outdoors with Jack and fellow photography fans.

Jack's next WORKSHOP is Intermediate Level DSLR & iPhone Sunday, January 19, 2014, San Geronimo, CA.
Email Jack to sign up or get more information.
To be notified of future JackPhoto Workshops, click here.
♦♦
Workshops include: Travel/Field trip, Gone to the Dogs, Nature, iPhone, People. Workshops are Introductory or Intermediate level.
Introductory Level Classes cover all camera basics with emphasis on learning depth of field, and the choices and effects of shutter speeds and aperture values, the components of a compelling photograph, plus hands-on practice. Have all your questions answered by a pro with over 20 years experience (that's me).
Intermediate Level Classes: you know camera basics (shutter speeds, aperture, ISO, manual settings), but want to hone your skills and use of depth-of-field, and learn more about seeing light, composition, finding and working with subjects.
All classes are small (usually 6 or fewer students), so you receive individual attention and answers to all your questions as they arise. Quickly learn how to operate your camera effectively, think about what you're doing and why — all to make more compelling photographs!

Most workshops are $125 and 5 hours long; often starting at 12 noon and ending 5pm with a 1-hr lunch/brain/absorption break. Digital SLR and tripod recommended (DSLR = Digital Single Lens Reflex = mirror box and interchangeable lenses). I usually have loaner equipment available upon request.
Call 415.488.42-zero-zero with questions, or to determine if you're a fit. Email Jack for more info and upcoming class schedules.
---
Dear Jack - It's hard to know where to begin - there is so much to thank you for!
I really appreciated having the day to spend together at your workshop - you taught me so much more than I've ever known about my camera. I especially enjoyed learning about the manual settings on my camera, and how you answered all of our questions - I learned so much about seeing and light and how to ask myself questions while I'm working so that I can create a better photo.
I especially appreciated your kindness in teaching me how to deal with my inner critic, which allowed me to relax and really enjoy the day and have fun! More than that though, you taught me about the art of looking - new ways to compose pictures to make them more dynamic and interesting. Thanks again so much, and I'll look forward to the next one!

love, Beth, August 2012
♦♦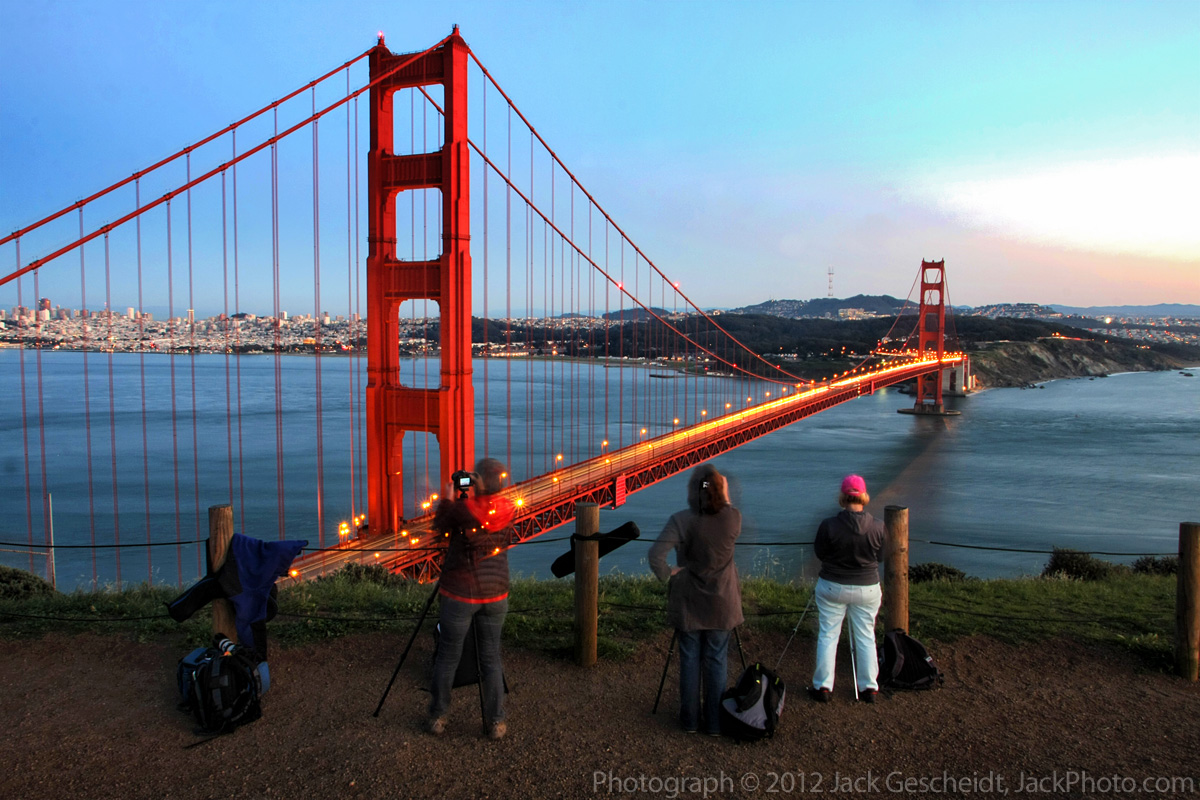 Hey Jack,
Thanks for an awesome class! I still feel incredibly empowered with my camera! Woot!
I am interested in more DSLR practice, preferably field practice. Keep me in the loop, I definitely want to do it again. I looked back at my photos for the day and saw that my images are looking quite a bit different because of the control I was exhibiting and I also feel like I have a lot to learn.
Thanks for being a resource!
- Geej, August 2012
♦♦
Thanks again Jack for spending so much time with us. It was an incredibly fun way to spend the day, and I left feeling inspired and re-energized to pick up my camera. Now if only my camera had a battery... - Mike Riepe, January 2014
♦♦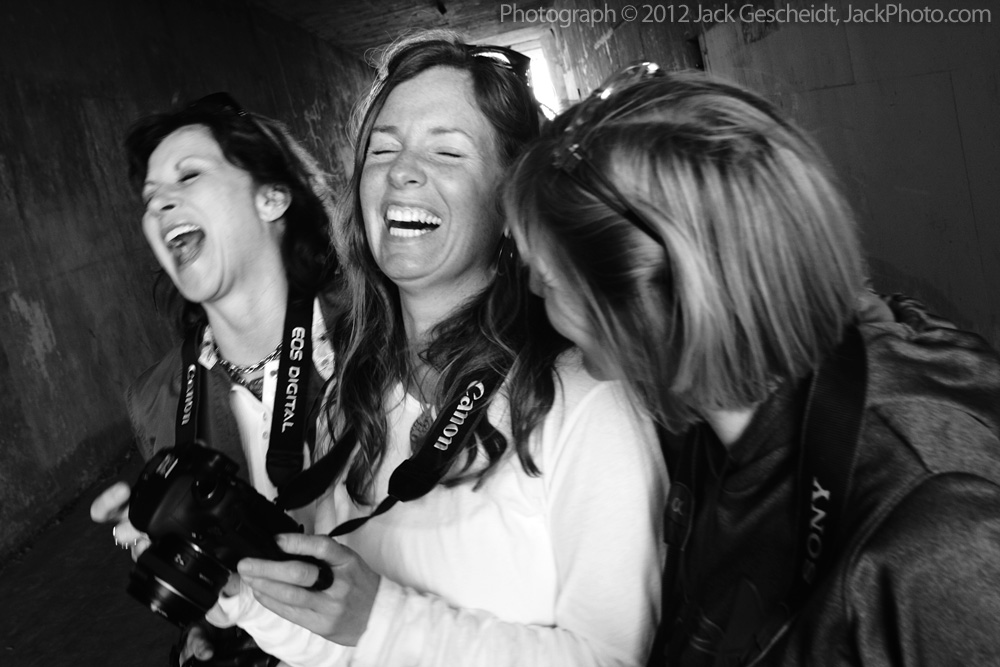 Hi Jack,
I have taken classroom style classes and never had my interest peaked enough to want to get out and use my camera. Your teaching style is so informative and fun...you make it seem easy.
The fact that I could barely operate my camera and was taking time delay shots of the GG Bridge with a tripod at the end of our day together was so exciting for me. You really taught me how to see what I'm looking at which is huge. Please keep me on your email list for future classes and let's do a dog one!
Thank you for a wonderful experience.....it was a gift.
Best,
Sandy, March 2012
♦♦
I had such a wonderful time yesterday and I learned so much. You are such a unique professional; first, you obviously love and are great at what you do and secondly, you have no fear or are not threatened by sharing information. In fact, your joy brings us right into your world. The class was phenomenal! The classmates were fun and engaging and best of all nothing was threatening.

Sometimes adults forget that little kids often embrace new experiences, "just because," and adults slip into the world of worrying what someone else might think. Not yesterday. We were all wide eyed kids learning so much and having so much fun. I was reminded of a quote by George Bernard Shaw (I think), "We do not forget to play because we grow old, we grow old because we forget to play." Thank you for letting me play yesterday and push back the clock.

Linda Spangler, October, 2011
♦♦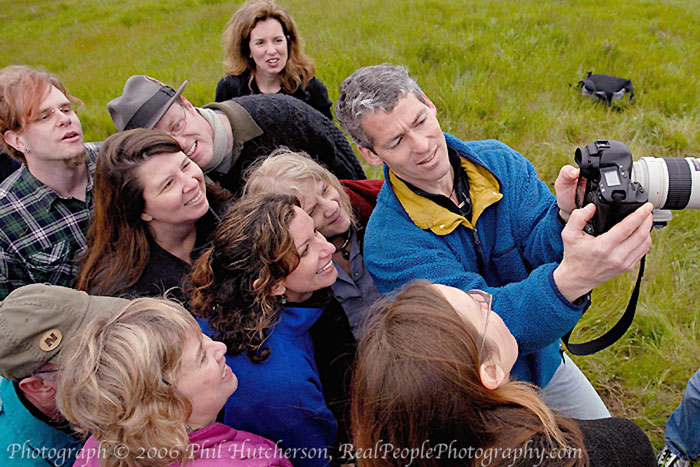 Thanks for a very enjoyable class today, Jack. It was a pleasure to see light bulbs go on in each person's head one or more times throughout the day. I am confident that all of us benefited from both the technical discussion and the hands-on work in among the trees. (I sure did.)
...you can ad lib with the best of them, drawing on your almost life-long closeness to photography and your fine lens-side manner, fired in the crucible of putting large groups of people at ease in the altogether. I really appreciated your demo of those reflectors. (I have a new set that I am now eager to use.) I learned a lot, and found new impetus for my own current passions (tree bark and macro photos of flowers and insects).

Joe Meyers, October 2011
♦♦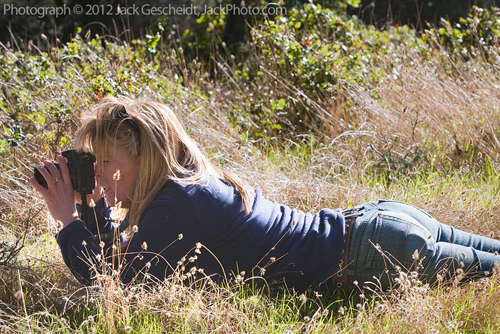 Hi Jack,

You are a great teacher! I had the best time in your class and really want to take another one... I've been playing around with both (aperture and shutter speeds) to see how the light and clarity change when I adjust one or the other or both.

Please let me know when your next class will be. In the meantime, I'll practice with my camera...

Chris Babalis, November 2011
♦♦
Thank you again for the class. It was an exceptional day of beauty, learning, and quiet fun.
Jenny Girsang, November 2011
♦♦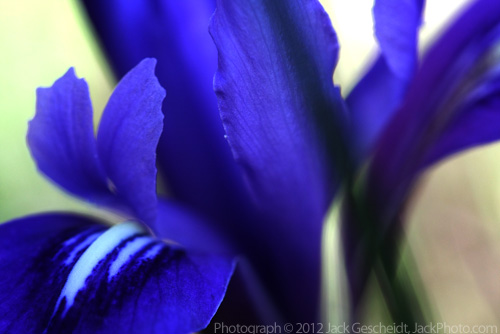 Jack, I had a wonderful time yesterday! I think you are doing a great job at teaching. I have attached a few of my favorite pictures from that day. It is amazing how much we learned in one afternoon. I look forward to taking another class with you again soon.
Hugs, Tiffany O
March 2012
♦♦
Dear Jack,

Thank you so much for a wonderful "Gone to the Dogs" photo workshop at Golden Gate Park. We were blessed with a beautiful day & very cooperative pups! Thanks so much for the fun, informative experience & I look forward to your upcoming workshops.

Sincerely,
Cathy
April 2012
♦♦
Dear Jack,

I had the most marvelous day and I learned so much. I learned much at our first session but yesterday it seemed that I could get my fingers to do what my brain had come up with and why! I learn best when I can practice as I learn. The lessons by the gopher hole and especially with the tripods were mind blowing for me. Somewhere in there the light bulb went off and I can better understand the concept of planning the picture or trying to get what I want and why. The cogs are meshing slowly, but still meshing, and it is all thanks to you. As I said, you have a great way of making someone feel at ease – I am sure it started with your parents, took you through your time in NY but that "easability" is one of the things that make you so absolutely a pleasure to work with and learn from. Thank you again.

Linda
May 2012
♦♦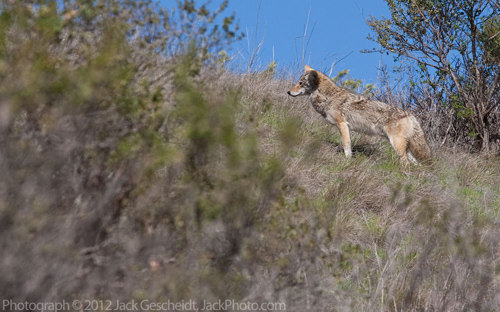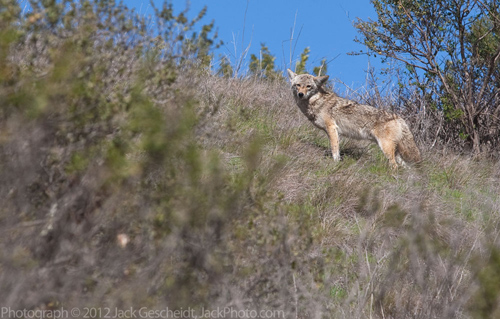 Above, a wild coyote in the hills of west Marin County.
---
(Which ones interest you?)
Travel/Field Trip: Larkspur Ferry to SF Ferry Terminal & Farmer's Market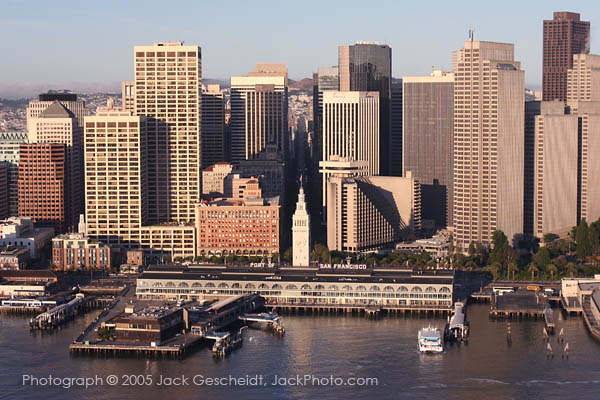 Imagine having a professional photographer over your shoulder all day as you photograph in constantly different and changing environments. Jack will work with you in a small group all day in the field (and on the water) — while answering all your questions and giving you tips to improve your photos on the spot.
DETAILS: Meet at the Larkspur Ferry in Larkspur, CA (right off Hwy 101) @ 9:20am SHARP. We'll ferryboat across the bay to the SF Farmer's Market. You'll photograph and learn under Jack
's watchful eye while:
• on the 50 min. cruise across the bay;
• at the SF Farmer's Market;
• enjoying lunch at the Farmer's Market;
• strolling the Embarcadero for SF and cityscape photos;
• ferrying back from SF @ 4pm, arriving back in Larkspur @ 4:50pm, tired and happy.

This is a full, rich day full of great photographic subjects: people, the SF bay, boats, the SF skyline, the SF Ferry Bldg Farmer's Market, seagulls and everything else. It's the perfect way to practice seeing and making images in constantly changing environments while getting individual attention, time to get all your questions answered, and practicing what you learn.

Just $125 (+ $18 r/t ferry ticket and your Farmer's Market lunch).

Email to join the fun (or express interest in this outing for a future date).
$125, 9:20-5:00pm, meet at Larkspur Ferry Terminal, Marin County, CA @ 9:20am SHARP! (Don't miss the boat!).
♦♦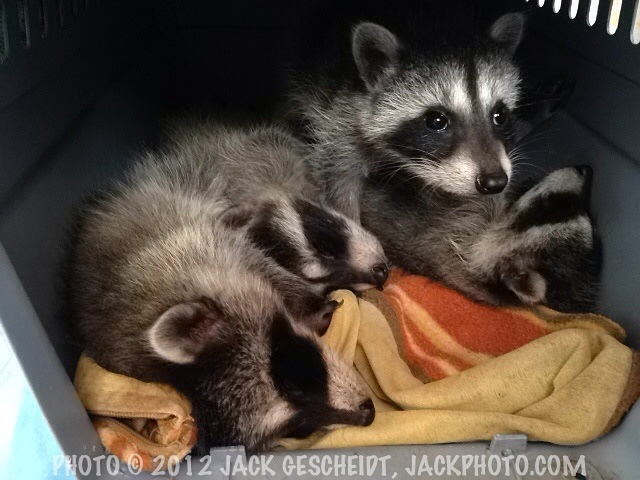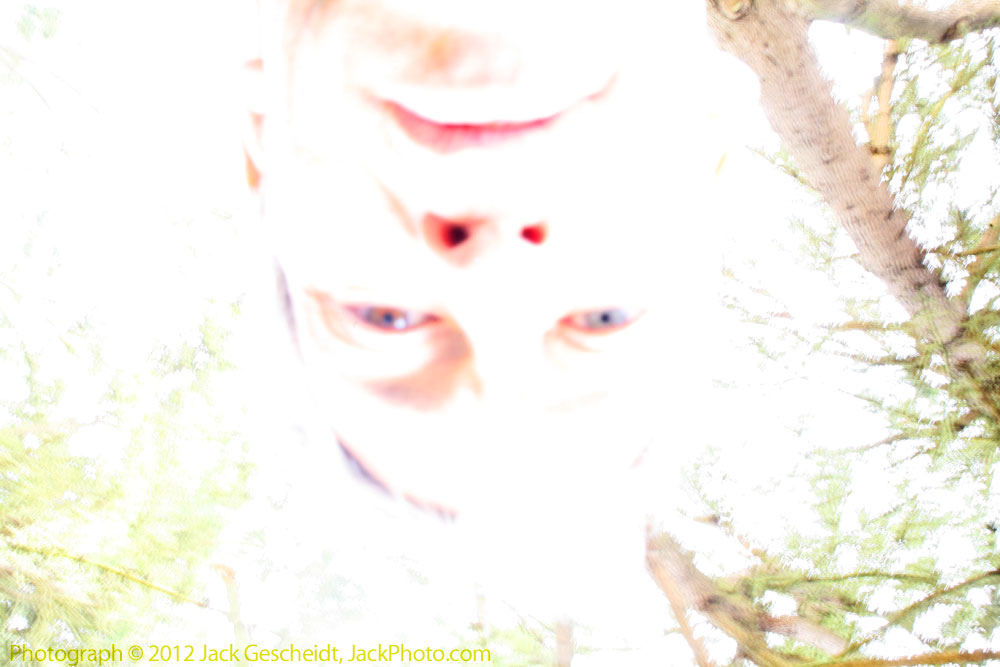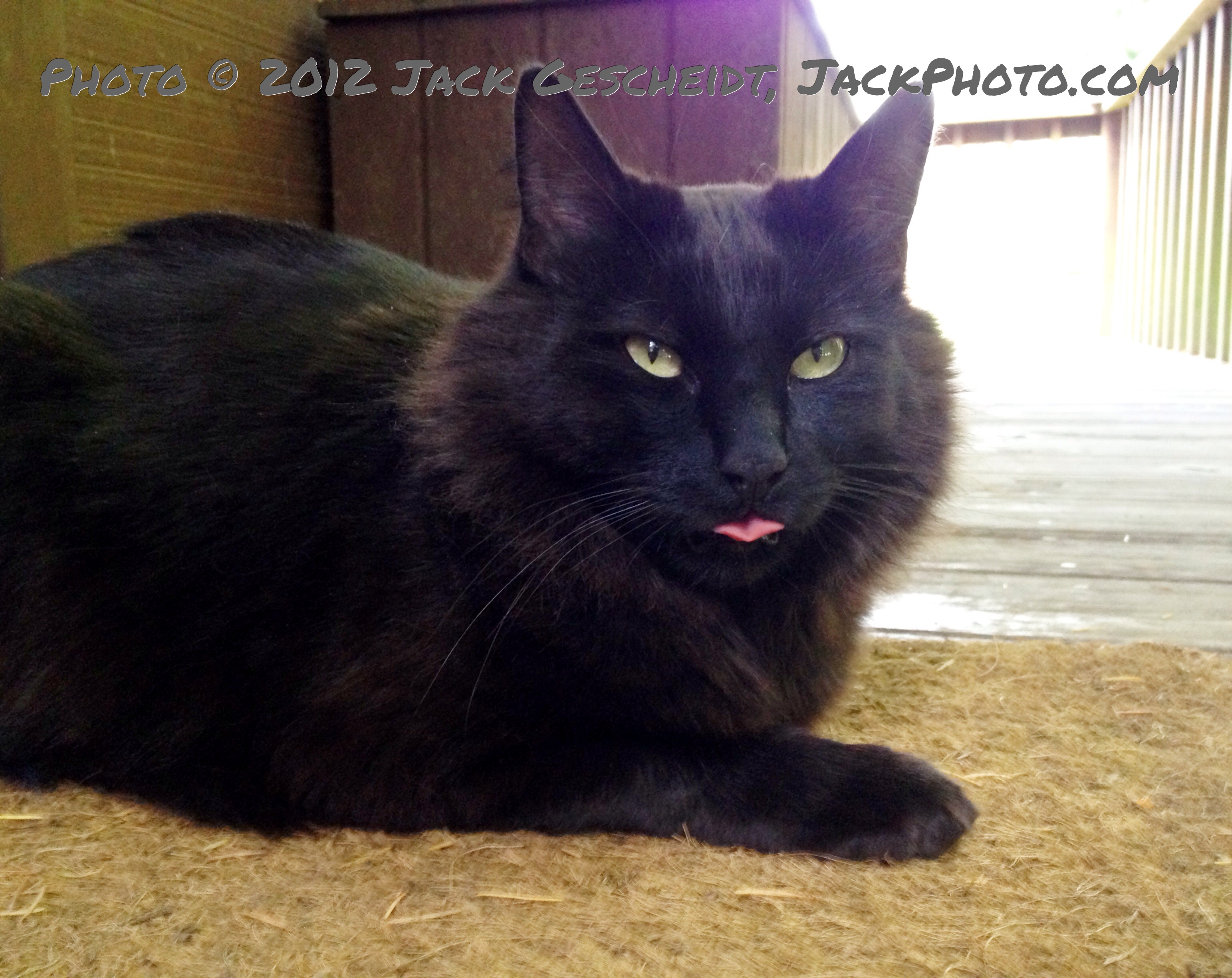 Your iPhone snapshots can become photographs!
Maximize the potential of your iPhone's handy little camera, the one so many people increasingly rely on. I'll bring you up to speed on the best after-market iPhone apps - and show you how to use them, and the iPhone, wisely! Learn to exploit the iPhone's potential, and avoid its limitations. Equally important, learn and apply photographic fundamentals — composition, lighting, exposure, and "the moment."
In a single fun session, your iPhone (4, 4s or 5) snapshots can improve dramatically: sharper, snappier, better composed, and more treasured.
Bonus: you'll learn tips to improve your photos with ANY camera - because despite what many think, it's ultimately your knowledge and eye, not the equipment, that makes fine photographs.
$125, 12-5pm, in San Geronimo, CA, (10 miles from 101) among redwoods, cats and people to practice with.
Reserve your place by mailing your $125 check, payable to "Jack Gescheidt", to: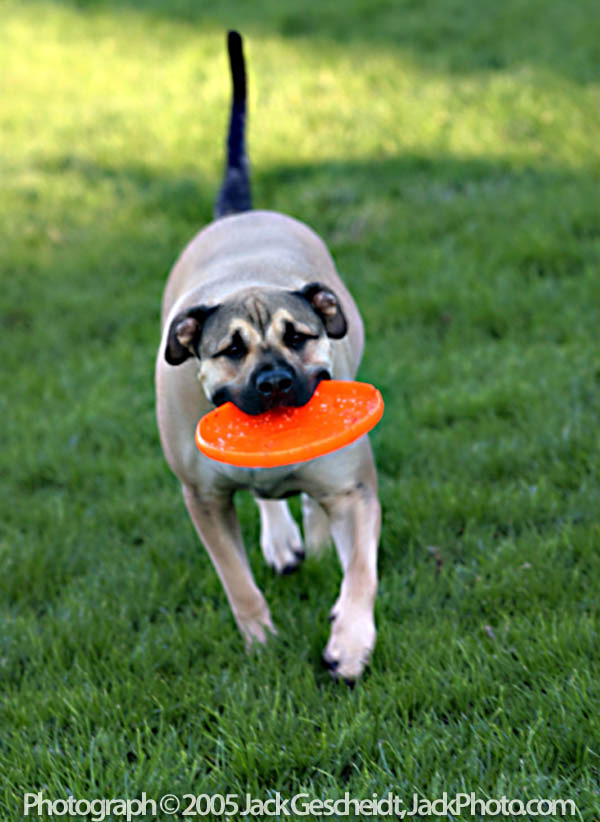 Learn how to capture your devoted furred friend who is always around yet often hard to get a great photo of.
BYOD—Bring Your Own Dog (if you have one)—and quickly improve your dog (and cat and animal) photography skills.
Everyone who BYODs will come away with a good photo of his pooch.
Just some of the topics Jack will cover:
• seeing light (always paramount, for all subjects)
• getting a dog's attention
• posed vs. action photos
• techniques and tricks to photograph dogs in action
• seeing/understanding backgrounds, foregrounds
• learning how to work with light/dark coated dogs
• working with reflectors